Based on third quarter reports, GEICO Corp. has surpassed Allstate Corp. to become the nation's second-largest private auto insurer.
According to data compiled by SNL, GEICO logged $4.89 billion in direct premiums written during the third quarter of 2013, while Allstate recorded $4.65 billion in premiums.
State Farm remained firmly in the number one position with $8.7 billion.
Allstate barely kept its perch in the second quarter, logging $4.46 billion in direct premiums written, compared to GEICO's $4.42 billion. The two actually swapped places in the first quarter, with GEICO posting $4.72 billion in premium, versus Allstate's $4.53 billion.
However, GEICO in the third quarter surpassed Allstate on a last-12-months basis for the first time. GEICO in the previous 12 months recorded $18.11 billion in direct premiums written, compared to $17.97 billion at Allstate. In the second quarter, Allstate held a very narrow edge with $17.79 billion in direct premiums written in the prior 12 months, versus $17.62 billion for GEICO, according to the SNL report by Matt Blumenfeld and Raisa Luis.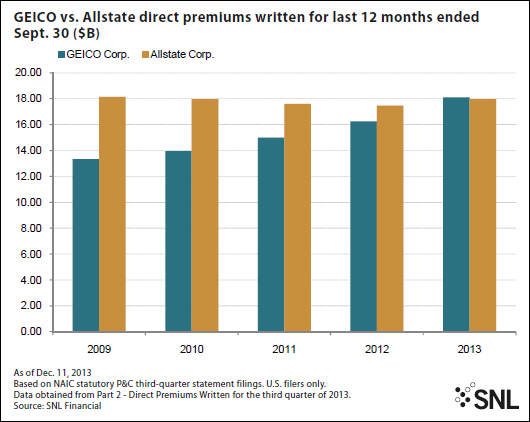 Allstate spokeswoman Maryellen Thielen told SNL in a statement that the insurer's focus extends beyond the auto insurance business. "Allstate's strategy is to provide a broad set of competitively differentiated products to the four consumer segments of the insurance market, not to focus solely on one product line," she said.
Thielen also told SNL that Allstate Protection's personal lines written premium for the last 12 months ending Sept. 30 came to $25 billion, compared to just $18 billion for GEICO.
GEICO's rise to the second spot was expected, according to Keefe Bruyette & Woods analyst Meyer Shields, who told SNL he anticipated the insurer overtaking Allstate by late 2013 or early 2014. He said GEICO will probably tout its new position with a new advertising campaign now.
Meanwhile, Travelers, which has been looking to boost its market share, has seen its third-quarter premiums slide over the last three years, according to SNL. Travelers recorded $1.02 billion in direct written premiums in the third quarter of 2011, $990.6 million in the same period of 2012 and $924.8 million in the third quarter of 2013.
Farmers Insurance Group of Cos. was the other top-10 insurer to record a year-over-year decline, as its premiums fell 5.16 percent to $2.50 billion.
Liberty Mutual Holding Co. Inc. moved ahead of Farmers on a quarterly basis by a slim margin. Liberty Mutual continues to trail Farmers on an annual basis, recording $9.23 billion in premiums over the last 12 months, compared to $9.97 billion for Farmers.
Among the top 30 auto insurers, Kemper Corp. recorded the largest year-over-year decrease as its premiums fell 12.02 percent to $234.0 million. GEICO had the biggest increase, climbing 11.14 percent year over year.
Across the industry as a whole, but excluding an American International Group Inc. subsidiary, premiums grew by 4.60 percent year over year to $48.34 billion.