A day before Willis Global Holdings announced its merger with Towers Watson, the global insurance and reinsurance broker confirmed that Deputy CEO Steve Hearn would be leaving the company to become CEO at Cooper Gay Swett & Crawford (CGSW) in November.
Willis officials said at an investor conference today that Hearn knew about the pending merger and supported it.
The move follows the recent departure of Toby Esser as CGSW CEO, and the announcement that Peter Hearn, most recently the chairman of Willis Re, will join Guy Carpenter as its CEO in May 2016.
Martin Sullivan has been serving as interim CEO at CGSC since Esser's departure.
Hearn joined Willis in 2008. He was appointed deputy CEO of Willis Group Holdings in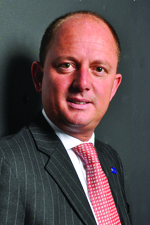 January 2013. He served as CEO of Willis Global from December 2011, leaving that role to oversee Willis Capital Wholesale & Reinsurance at the beginning of 2015. He was CEO of Willis Re from February to December 2011, having led Faber & Dumas, Global Markets International and Willis Facultative from 2008 until 2011.
Dominic Casserley, Willis Group CEO, thanked Hearn for "everything that he has done for Willis in a host of senior roles over the past seven years."
Hearn thanked the Willis team for what he said has been a "great professional experience" for him. "It has been a very hard decision to leave an institution that I care deeply about, and I wish my friends and colleagues at Willis all the best for the future," he said.
Casserley will be deputy CEO of the merged firm, Willis Towers Watson.
Source: Willis Group Holdings