With maximum sustained winds of 150 mph at just after 3 p.m. on Sept. 28, Hurricane Ian was just shy of Category 5 status when it made landfall in Cayo Costa, Fla.
Ian, in line to be one of the strongest to ever make U.S. landfall, was the first hurricane to strike Florida since 2018. It's collision with the Sunshine State was the storm's second landfall, having already struck Cuba. Forecasters are also considering the possibility of a third landfall on the East Coast after the storm leaves Florida and gets to the Atlantic Ocean.
Variables such as the storm's track, strength, speed, landfall location, and cause of loss will ultimately determine losses to the insurance industry from Ian, and while much had been made when the storm's direct path strayed from the heavily-populated Tampa-St. Petersburg area to the north, many of the locations within Ian's current wind field are well-populated and have been growing. For instance, according to recent data from the U.S. Census Bureau, Fort Myers was the sixth fastest-growing large city in the United States between July 2020 and July 2021.
Ian appears poised to land on the list of costliest hurricanes in history. The intense storm could be the second hurricane to make the list of Top 10 costliest hurricanes in the last two years.
The Insurance Information Institute (Triple I) said many of the insurance modelers are putting losses at between $20 billion and $40 billion.
Alex Sosnowski, Accuweather senior meteorologist, said Ian is in line to affect much of the same area as Hurricane Charley in 2004. However, Ian is a much larger storm. Accuweather said Charley could almost fit inside the eye of Hurricane Ian.
Charley caused nearly $7.5 billion in insured losses when it occurred ($9.7 billion in 2018 dollars), and was on the Top 10 list of costliest hurricanes until a couple of years ago.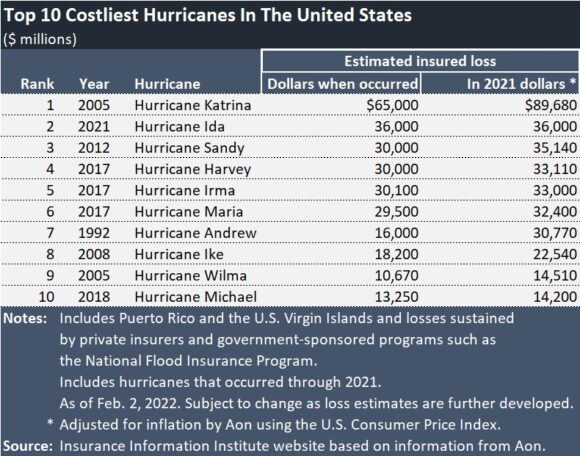 In terms of hurricane strength, Hurricane Ian ranks in a tie for fourth place with Charley and a Florida Keys event in 1919 for the strongest hurricanes by maximum sustained wind (150 mph) to make landfall in Florida on record, Phil Klotzbach, meteorologist at Colorado State University and author of the CSU hurricane forecast report, tweeted at 3:25 p.m. yesterday. Minutes later, he also observed that Ian ranks fifth — tied with multiple other hurricanes — in a ranking of all continental U.S. landfalling hurricanes. (Florida storms on Labor Day event in 1935, Hurricane Andrew in 1992, and Hurricane Michael in 2018 outrank the fifth-place hurricanes, as does Hurricane Camille, a 1969 event that made landfall in Mississippi and ranks second, according to Klotzbach's chart.)
Risk modeler CoreLogic noted that in addition to have a wind field that is more than double that of Hurricane Charley, Hurricane Ian is moving forward more slowly. According to CoreLogic, Charley made landfall at more than twice the speed of Ian.
In the last advisory before landfall, the National Hurricane Center reported Ian's speed at 9 mph. Later in the day, and early this morning, it was moving at 8 mph.
Insurers in line to cover the losses include the top 10 homeowners insurers in the state (listed below), published by rating agency AM Best before the storm made landfall. After landfall, AM Best downgraded and withdrew the ratings of one of the insurers in the fourth-ranked group, Tower Hill Prime Insurance Company, a commercial and personal lines insurer in Tower Hill Insurance Group.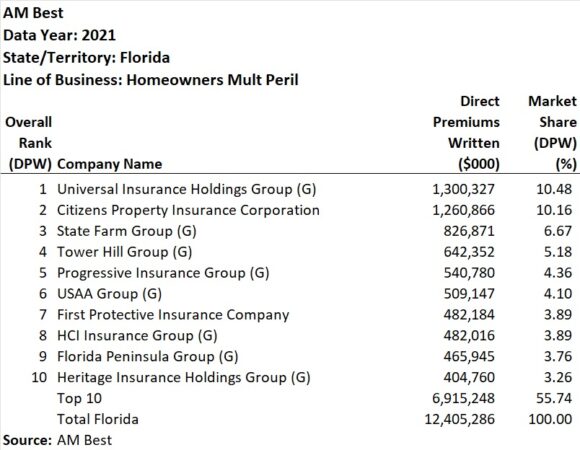 Yesterday afternoon, CoreLogic estimated that 7.2 million single- and multifamily residences with a combined total reconstruction value (RCV) of $1.6 trillion fall within the "moderate" and "high" flash flood risk bands, as forecasted by the National Hurricane Center. NHC forecasts that the entire state of Florida is at some level of flash flood risk due to heavy rainfall from Hurricane Ian, with most of the state being at moderate (40 percent) or greater risk.
The large wind span and the slow speed of Ian "have significant impacts on not only the number of homes that will experience hurricane-force winds across Florida, but these factors will greatly magnify the storm surge and precipitation-induced inland flooding," CoreLogic said.
Images on the Weather Channel showed many cars submerged under water.
Hurricane Ian's impact on Florida residents appears to be a worst-case scenario, combining the most dangerous components of three infamous U.S. landfalling hurricanes: Andrew (1992), Katrina (2004) and Irma (2017), CoreLogic said, also noting that storm surge depths of up to 18 feet above the ground surface may flood thousands of homes.
On Monday, Neptune Flood, an insurance technology firm placing private flood insurance, said that the company saw a four-times increase in quotes above their normal volume, in anticipation of the storm, noting that The National Flood Insurance Program offers a maximum limit of $250,000 in coverage in areas like Tampa Bay where the average home price approaches half a million dollars. Neptune's policy count in Florida is 30,000 and 130,000 across all states.)
Analysts at Morgan Stanley, who reported current industry estimates of insured losses in the $10-30+ billion range, also wrote in a research note that Hurricane Ian should provide an "incremental boost to reinsurance pricing momentum" during the Jan. 1 renewals.
(A version of this article, written by Insurance Journal National Editor Chad Hemenway, was published on the IJ website midday yesterday. Carrier Management updated some of the storm details after landfall.)
Photo: Hurricane Ian as seen from space. (Image credit: NOAA)