Berkshire Hathaway Inc. had a tough second quarter with the pandemic taking a toll on most of its operating businesses including Precision Castparts aircraft parts, the BNSF railroad, Occidental Petroleum Corp., Kraft Heinz Co. and retailers including See's Candies that temporarily closed stores.
Overall second-quarter net income rose 87% largely because of gains in stock investments.
However, Berkshire's insurance units fared better during the pandemic, according to the conglomerate's second quarter filing.
Total Insurance revenues were up. Auto insurer GEICO and General Reinsurance reported increases while Berkshire Hathaway Primary group was down slightly.
GEICO generated an underwriting profit of $2.1 billion in the second quarter, five times what it was for the same period last year. Its premiums written decreased 7.0% in the second quarter. The results reflected significant declines in losses and loss adjustment expenses attributable to lower claims frequencies from the effects of less driving due to the pandemic.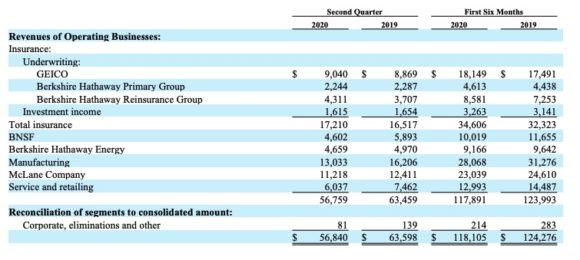 Geico's loss ratio in the second quarter was 62.1%, down 19.9 percentage points compared to the second quarter last year. The decrease was due to significant declines in claims frequencies and increases in claims severities.
Claims frequencies in the first six months of 2020 were lower for property damage, bodily injury and personal injury protection coverages (27-30%) and collision coverage (24-26%) compared to 2019. Average claims severities in the first six months of 2020 were higher for property damage coverage (9-11%), collision coverage (7-9%) and bodily injury coverage (10-12%). The low point in claims frequencies was reached in April. Frequencies in May and June increased significantly from April, although they were well below historical levels, according to the company.
GEICO second quarter:
The GEICO Giveback, implemented in April, provides a 15% premium credit to all voluntary auto and motorcycle policies renewing between April 8, 2020 and October 7, 2020, as well as to any new policies purchased during the same period. The program reduced premiums written in the second quarter of 2020 by approximately $1.3 billion.
The effect of the premium credit program on underwriting results is delayed because premiums are earned over the policy terms. GEICO estimates that during the period between April 8, 2020 and April 7, 2021, earned premiums will be reduced by approximately $2.5 billion as a result of the program. Also, premiums earned will very likely decline in the third and fourth quarters even if policies.
Berkshire said it also anticipate its underwriting results for the remainder of 2020 and the first quarter of 2021 will be adversely affected from lower premiums for certain business for which premiums are a function of the payroll.
The Berkshire Hathaway Primary Group includes Berkshire Hathaway Specialty Insurance, Homestate, MedPro, GUARD , and National Indemnity. Other BH Primary insurers include U.S. Liability, Central States and MLMIC.
Berkshire Hathaway Primary Group second quarter:
Premiums written in the second quarter decreased $221 million (9.3%) to $2.15 billion compared $2.37 billion to the same periods in 2019. The decrease was primarily attributable to lower workers' compensation and commercial auto business, partly offset by increases from BH Specialty in property/casualty business. The declines in workers' compensation and commercial auto premiums written reflected reduced exposures and premium refunds related to COVID-19, increased price competition in the market and the effect of the Applied Underwriters divestiture in 2019.
BH Primary insurers generated pre-tax underwriting earnings of $96 million in the second quarter compared to $167 million in the second quarter in 2019.
Because BH Primary insurers write significant levels of liability insurance and workers' compensation insurance where claims are generally subject to longer claim-tails, BH Primary "could experience significant increases in claims liabilities in the future attributable to higher than expected claim settlements, adverse litigation outcomes or judicial rulings, regulatory actions and other factors not currently anticipated," the company said.
Reinsurance
The reinsurance segment includes National Indemnity Co. and General Reinsurance Corp.
Property/casualty reinsurance premiums written increased $668 million (28.7%) in the second quarter. The increases in premiums written were primarily attributable to new property contracts, partially offset by the unfavorable foreign currency effects of a stronger U.S. dollar.
Reinsurance losses and loss adjustment expenses in the second quarter increased $1.1 billion (77.1%) over the same period in 2019, reflecting estimated COVID-19 related claims of approximately $350 million in the second quarter, bringing the total to $575 million in the first six months of 2020. These expenses in the first six months included a net increase in estimated ultimate liabilities for prior years' loss events of $439 million in 2020 and $269 million in 2019. The increase in 2020 is primarily attributable to legacy environmental, asbestos and other latent injury claims.
There were no significant losses from property catastrophe events in the first six months of 2020 and 2019. Underwriting results in the first six months included approximately $39 million related to allowances for credit losses attributable to the pandemic in 2020.
Total reinsurance:

Property/casualty reinsurance: