Overview
Register today for this live event on September 18, 2019 10am PT / 1pm ET
The most innovative ideas in the insurance industry don't always come from global mega insurers with large teams of technology experts that spend all their time devoted to imagining new ways of doing business.
Church Mutual, a Wisconsin-based specialist insurer with a workforce of just over 1,000 employees, proved that a few years ago when it implemented an innovative internet of things solution for its customers.
In this webinar, insurers of all sizes and across all lines of business will hear from Church Mutual:
how to leverage data analytics, technology, and culture to deliver valuable innovations for customers
the role that an agency distribution network plays in innovation
what leaders need to put in place to build sustainable innovation
Meet our panelists: Guy Russ, AVP of Risk Control for Church Mutual talks with CM Guest Editor Mike Fitzgerald about how the mission of a mutual and its "deeply ingrained cultural need" to help policyholders helped spark several innovations at the insurer. Other factors for continued innovation included paying attention to consistent patterns of claims, the support of the chief executive, and an understanding of how to manage partnerships with external technology providers.
Guy Russ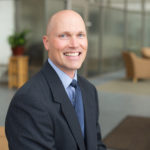 Mike Fitzgerald